Over the years, many people have acknowledged my ability to vibrate at a high frequency every single day and there have been so many requests from people who have asked me to teach them how to do the same. They have seen me manifest a truly rich and abundant life by focusing my attention on my vibration and energy. They have recognised just how powerful it is to vibrate at a high level consistently and want to do the same. When we open up the pathways to abundance and prosperity and learn to vibrate at a higher frequency, we are more able to attract, feel, see and accept the endless opportunities that are being presented to us by the universe continuously. I am so pleased to be able to share with you some of the strategies I use every single day that have raised my vibration and have rewarded me with a truly rich life.
Wishing you wellness and abundance -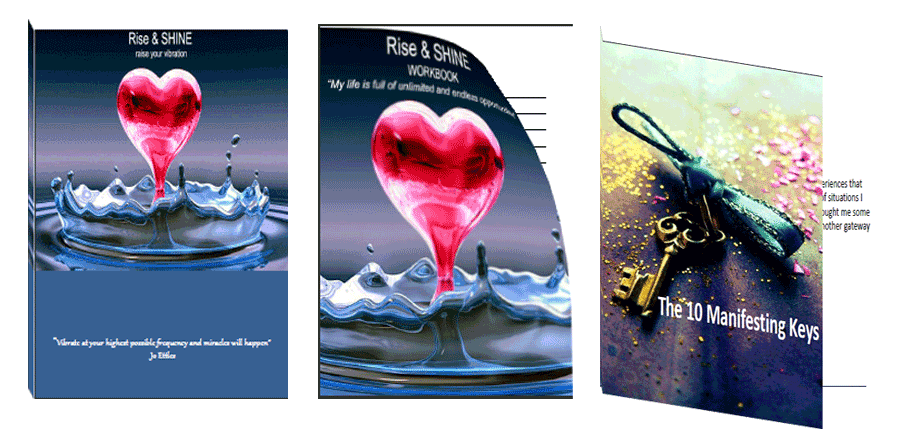 It gives me great pleasure to share my Rise and SHINE – raise your vibration guide and workbook with you.
I have also included a bonus gift for you – 10 keys to manifesting.
What's included-
Rise and SHINE - Raise your vibration Ebook
Your vibration | Gratitude | Open up your pathways | Ground yourself |
I AM worthy | The pocket exercise | Let it go to create flow | Mind your energy  Circle exercise | Commitment
Rise and SHINE Workbook
Your personal space to record your hopes, your dreams and all of your wishes.
10 Manifesting Keys
10 keys - Each one unlocks another gateway to abundance.

* Please Note: While Jo Ettles site and Ebook series endeavors to provide users with accurate and helpful information, this website is not a substitute for health, medical or financial advice. Users of this website and webinar series should always seek the advice of a qualified health care professional with any questions they have regarding their health or medical conditions. By accessing this site or accessing the free webinar series you accept full responsibility for your own health, wellness and financial circumstances.  Any content on this site in relation to health and wellness or finances is not intended as a substitute for advice from a qualified professional. Please refer to our disclaimer page for a complete copy of our terms & conditions.